WASCOMAT WASHERS



Wascomat is the Standard of Quality in the Laundry Industry!
Wascomat is the world's largest manufacturer of commercial and industrial laundry equipment
with over 90 years of experience. Wascomat laundry equipment is specifically designed to
meet the on-premise laundry needs of hotels, motels, hospitals, nursing homes, manufacturers
and food processors, schools, health clubs, restaurants, diaper services, and shirt laundries.
As linen rental costs soar, managers across the United States, Canada, Mexico and
worldwide are processing their laundry in-house with professional Wascomat laundry
systems, which provide outstanding cost savings.
Wascomat. Built to last a generation!
All Wascomats are built to last a generation. Durable stainless steel construction and the
fewest moving parts ensure near maintenance-free operation. Wascomats feature
state-of-the-art controls for easy operation and long machine life. Wascomat's hard-mount
(bolt-down) or soft-mount (no bolt-down) models means your Wascomat laundry can be
installed wherever you have space, even on upper floors, and can be customized to suit your
needs. Compact design saves floor space.
Cut Operating Costs:
Wascomat washers are engineered for efficient use of water, energy and chemicals for
maximum savings. Whether you use liquid or powder chemical supplies, Wascomats
produce superb wash results on all cotton, blend, polyester and VISA fabrics.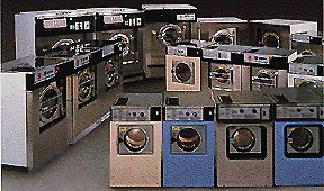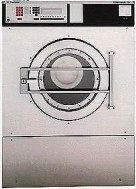 W-Series Washers
Classic Wascomat W-Series washers feature the rugged, durable construction and
electromechanical controls which have made these Wascomats the world's
best-selling, front-loading commercial washer for professional coin-operated
laundromats and washaterias. That's no idle claim - it's the truth! Appliance type
top-loading washers are designed for home use, not the abuse, overloading, and
constant duty of commercial use.

5 year warranty on zinc galvanized frame and cylinder; 2 year warranty on
all major parts.
Aircraft quality unibody construction totally eliminates welds for superior
strength, reliability and durability.
Built-in supply injector and wash cycle options to reduce time, water and energy
consumption.
Three inch, front-mounted hydraulic drain valve reduces clogs.
Single motor drive with self-adjusting belts.
Cast back gable and bearing housing for long machine life.
Unique wire harness with "quick disconnect" plugs simplifies service.
Positive door-lock system. Door open immediately upon wash cycle completion.
Professional wash formulas - hot, cold, warm, and permanent press.
Choice of front panel colors: Almond, blue, white, or stainless steel.
State-of-the-art Wascomat technology means fewer parts and easy maintenance.
Interchangeable parts from one size and model machine to another.
Copyright © 1999-2020 Centennial Distributing Corporation